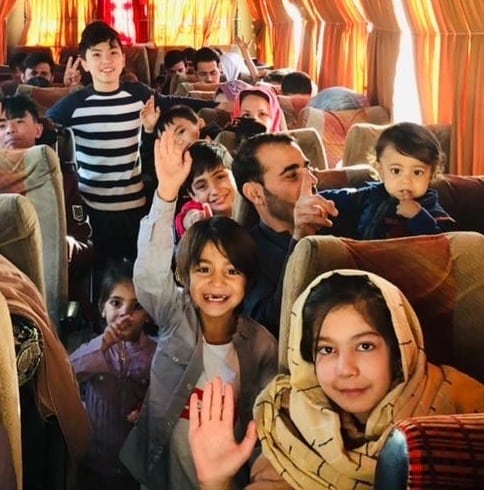 Welcome to Operation Recovery's Media Center.
Here, you'll find our latest press releases, contact information for press inquiries, and an archive of media coverage about our work. We're committed to transparency and open communication, and we welcome the opportunity to share our story with the public
Our Press Releases section contains the most recent updates on our endeavors. From the launch of new support programs, special community events to initiatives enabling a sustainable future for our heroes, you'll find it all here. We invite you to explore and learn more about the impact we're making.
Operation Recovery Announces the Launch of Grow America Farm Corps...
Read More
Two years ago, the world witnessed a tragic incident outside...
Read More
Dear Operation Recovery Community, The events in Afghanistan from two...
Read More
DONATE YOUR SPARE CHANGE AND MAKE A DIFFERENCE! Have you...
Read More
At Operation Recovery, we believe in the power of storytelling to raise awareness about the challenges faced by veterans, first responders, and allies of America in distress. We are honored to have our stories told through various media outlets. Check out our latest features and news stories in our Media Coverage section.
How a Nonprofit's Innovative Case Management System is Saving Lives After the Afghanistan Withdrawal
Addressing this humanitarian crisis, Operation Recovery—a nonprofit founded by veterans and active-duty service members—has successfully deployed a comprehensive case management system that is making a significant impact.
Operation Recovery partners with global organizations in the vital 'Prosecutors For Prosecutors' initiative.
Association of Prosecuting Attorneys (APA-US) "Prosecutors For Prosecutors" Campaign Unites US Prosecutors to Bring Afghan Prosecutors and their Families to Safe Countries
Operation Recovery: Saving Lives Using AWS Wickr
Operation Recovery deploys life-saving support in the aftermath of global crises and disasters. In 2021 as the Taliban took over control of Afghanistan, thousands of people who had helped support the US were stranded and in need of evacuation.
How AWS Wickr's encryption service is helping at-risk Afghan citizens
For a nonprofit that needs secure communications as it works to evacuate at-risk Afghan citizens, AWS Wickr provides an encrypted lifeline.
AWS Wickr: Aiding Afghan refugees through secure communication
Discover the Role of AWS Wickr in Our Mission: Facilitating Safe and Secure Communication for Afghan Refugees
A Year After the Afghan Withdrawal: Representative Michael McCaul's Perspective and Appreciation
A Powerful Reflection on the Afghan Crisis and a Heartfelt Thank You to Operation Recovery's Efforts
The Unseen Heroes: Task Force Pineapple's Veteran-Led Afghan Evacuation Mission
Task Force Pineapple: New York teacher, an ex-Green Beret, among US vets assisting Afghanistan evacuations
No Time to Wait: The Independent Rescue Operation for Afghan Allies by US Veteran
'We're not asking permission': US veteran launches major private operation to rescue remaining Afghan allies
Homebound: Stranded American Finds Refuge after Harrowing Weeks in Afghanistan
Stranded American Now Home after Weeks Stuck in Afghanistan
Braving the Battlefields: US Veteran Leads the Charge in Operation Recovery's Afghanistan Mission
US veteran proceeds with Operation Recovery rescue mission in Afghanistan
Operation Recovery: A Beacon of Hope, Powered by Encrypted Communication
The inspiring story of how Operation Recovery, UNCOMN, and AWS Wickr teams collaborated to create a secure, user-friendly communication platform for Afghan allies amidst a crisis.
A Call to Arms: Wisconsin's Former Army Special Force Heads Rescue Task Force in Afghanistan
Wisconsin native and former U.S. Army Special Forces is leading a task force to get those left behind out of Afghanistan
Syracuse Veteran Steps Up for Critical Role in Emergency Afghan Evacuations
Syracuse vet assumes critical role in emergency Afghanistan evacuations
A Plea for Compassion: Veterans' Open Letter to Biden Administration on Afghan Humanitarian Parole Denials
Joint Letter to Biden Administration Expressing Concern Regarding Humanitarian Parole Denials for Afghans
Bond of Brotherhood: Veterans Extend Lifeline to Afghan Comrades After Withdrawal
Veterans helping Afghan veterans, allies after withdrawal
From Chaos to Colonie: Chronicles of an Afghan Family's Journey
Churchill: From chaos to Colonie
Evacuation Ordeal: Afghans Wrestle with Bureaucracy and Taliban for U.S. Evacuation
Afghans Battle Red Tape, Taliban In Hope Of Evacuation To United States
United for a Cause: Evacuation Groups Join Forces to Secure Afghan Allies
Evacuation organizations band together for Afghan allies
One Year On: A Desperate Race to Evacuate U.S. Allies from Afghanistan
Afghanistan evacuation: U.S. allies in 'a race against time' one year after troop withdrawal
Abandoned to Their Fate: The Desolate Lives of Women Allies Left in Afghanistan
For women allies left behind in Afghanistan, life is hell
Changing Lives: Operation Recovery's Ongoing Mission to Aid Veterans and Allies
Local Organization supports Veterans, Allies. 
We've helped thousands of people Relocate to Safety
In the aftermath of turmoil, the human spirit prevails. Our story is not just about our journey, but about the strength and resilience of thousands of allies we've helped evacuate from Afghanistan & Ukraine. These brave souls, once in harm's way, now have the chance to rebuild their lives, thanks to the relentless dedication of our team and the support of our extended community.
They are not just numbers or statistics. Each one is a voice—a testament to bravery, a story of survival, and an echo of hope. Let their voices reach out to you, and through their narratives, witness the transformative power of support, sustainment, and enablement.
Afghan Ally
evacuated by operation recovery
"Sir, I don't think there's anything I can do and say that'll match what you have done for me and my family. I'm beyond words. I had heard we sometimes get angels assigned to us that help us and save us in difficult times. You're that angel."
Jon Collette
Founder of Operation Recovery
"This work is changing lives – thousands of them around the world – sometimes even the volunteers' lives themselves. This gets us out of bed in the morning and fuels our dreams each night."
USAF Family Member
after attending an operation recovery surf fire session
"These are the types of events that families remember for a lifetime, and [that] can change the trajectory of somebody's life by opening them up to others who they can now count on and care for."
Relocated in the past year
Impacted with direct Humanitarian Aid
Mental Health Initiative Recipients Each Month
Veteran Health & Wellness
Surf Fire program
Afghanistan Safe Passage
Initiative
Ukraine Mental Health EMDR
Info Sheet
For press inquiries, please get in touch with us at media(at)operationrecovery.org. Our dedicated team is always ready to assist you with the information you need about our organization, our programs, and our impactful work.
Ready to make a difference?
Curious about our work? Our community? Or the impact we're making? Dive into our information hub to discover how our collective efforts are transforming lives every day.
We also offer various resources and workshops for volunteers to learn more about our cause, the challenges we address, and the solutions we propose.